My Oulu: Young people from the Barents region had a say in the future of Europe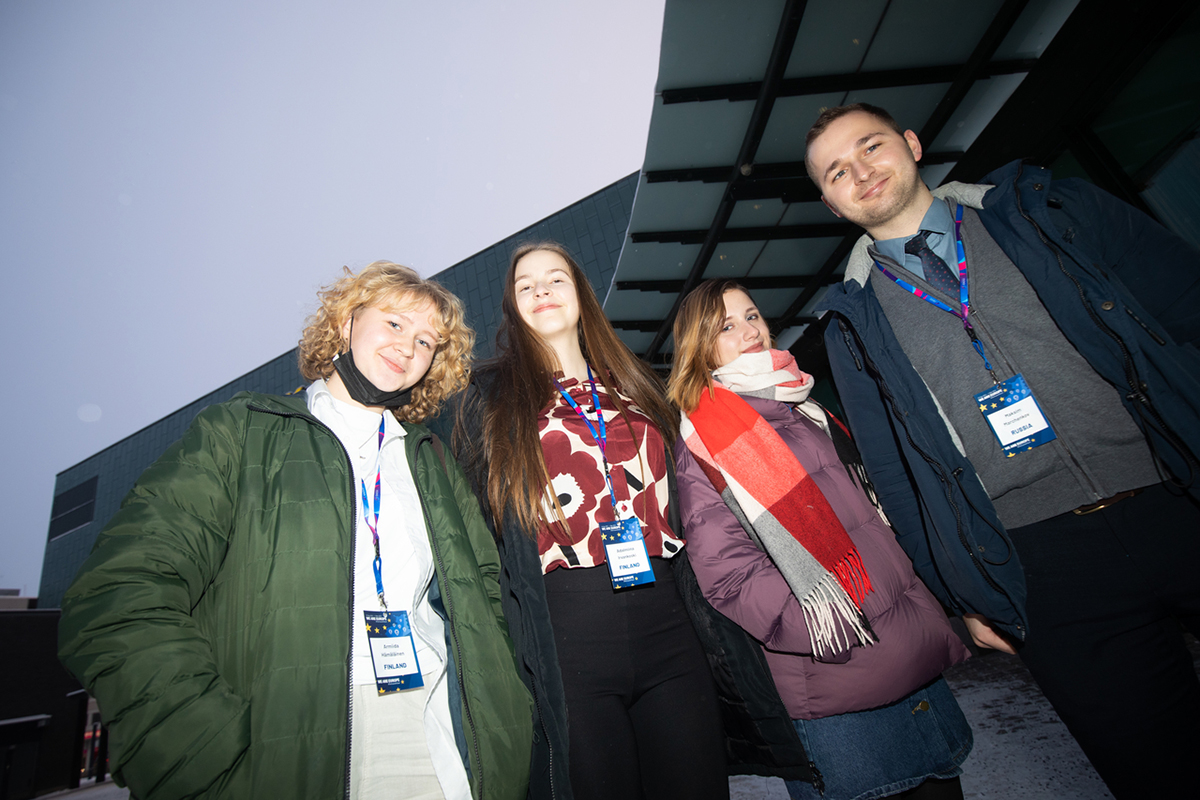 Armiida Hämäläinen (from the left), Adalmiina Irvankoski, Daria Zaikovskaia and Maksim Marchenkov represented their groups' discussions to politicians and the audience at the We are Europe conference. Photo: Sanna Krook
Around 50 youngsters from Northern Finland, Sweden, Norway and Russia gathered in Oulu on 30 November to discuss the future of Europe.
The discussions took place in different working groups. Daria Zaikovskaia, a student of education at the University of Oulu, participated in a group that focused on education, job-seeking, immigration and digitalisation.
"The future of education is an important topic for me. That is why I hoped to bring something into the discussion on the future of education in Europe," says Zaikovskaia, who is originally from St. Petersburg, Russia.
Maksim Marchenkov, travelling from Archangel, Russia, discussed the future of northern and rural areas with his group.
"Representing Archangel and the Barents Regional Youth Council in Oulu was an honor for me. I am grateful that I was invited here and we got a chance to develop the cooperation in the Barents region," he says.
Constructive discussions
Oulu was represented at the event by Adalmiina Irvankoski. She is a member of the city of Oulu's youth council and studies at the Laanilan lukio upper secondary school.
Her group discussed values, rights and democracy, among other topics. The group emphasised the importance of human rights and hearing the voices of minorities, such as the Sámi people.
"Although my own life is really good, I realise that not everyone is as lucky as I am. I want to make things better," she says.
During the day, Irvankoski noticed that many young people are interested in social matters and are capable of negotiating and expressing their opinions in a constructive manner.
Ideas from the youth were received by Tytti Tuppurainen, the Finnish minister for European Affairs, and Mirja Vehkaperä, the chair of Oulu city board and Finland's representative in the Conference on the Future of Europe.
Tuppurainen also visited Valve Culture Center to discuss the future of Europe with the residents of Oulu region and she promised to forward their and the Barents youth's thoughts all the way to the EU level.
We are Europe event in Oulu was organised by the Prime Minister's Office, the City of Oulu, the Council of Oulu Region, the Ministry for Foreign Affairs and the Barents Euro-Arctic Presidency.
Lue myös