My Oulu: Elegant macarons, original French cakes and flavourful tarts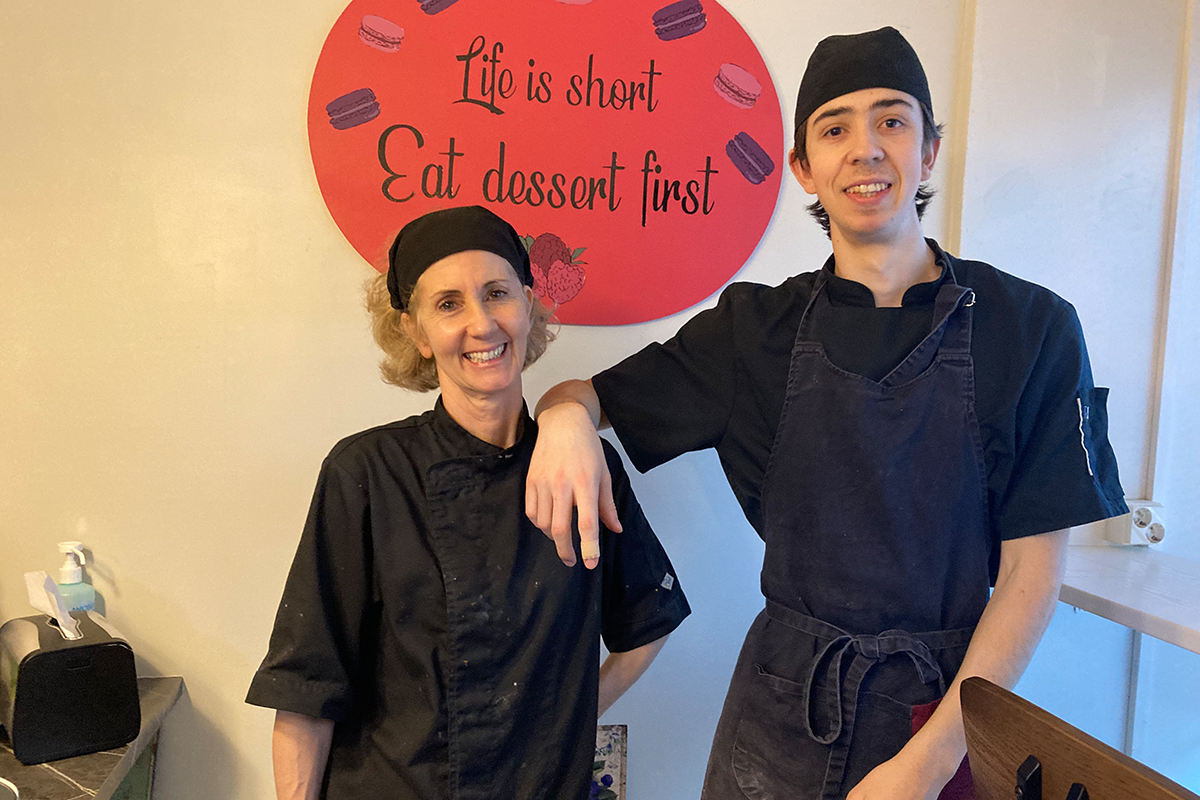 Julie Marty and her son Gabe run a pastry shop in the centre of Oulu. Photo: Erika Benke
The shop is run by a mother-and-son team of professional pastry chefs.
"I always loved making desserts for the family," US-born mother Julie Marty starts telling their story.
Before moving to Oulu, the family lived near Toulouse in France.
Julie's son Gabe was keen to help his mum with baking from a very young age. Over the years, his interest turned into a passion and he decided to train as a pastry chef at the age of 15.
It was not long before Julie followed in her son's footsteps and swapped her career as a translator for becoming a professional pastry chef herself.
"Our first idea was to open a pastry shop in the US because I am American, but we love our European way of life," says Julie with a stoic smile.
Oulu sounded like a good idea
The idea of setting up in Oulu came from Julie's husband, a corporate lawyer who had heard good things about the city from a colleague many years ago.
"Our younger son plays ice hockey and Gabe always wanted to live in a Nordic country. We all love snow, so Oulu sounded like a good idea," Julie sums up the decision-making process.
After making the move to Oulu in 2019, Julie signed up for the Startup Refugees programme.
"It was a lot of help: we had classes on trade legislation and rules, marketing, social media, insurance, making a business plan. All very useful," Julie says.
Mon Chou finally opened on April 30, 2021 and the shop has quickly attracted a loyal customer base.
What's the bestseller?
Croissants, macarons and crispy mille-feuilles pastries are very popular with customers in Oulu.
"Our croissants are crusty but buttery: exactly like they are made in the old way in France, in a three-day process. They need quite a bit of attention," explains Julie.
Amazingly, they are so good that they've even made people cry, says Gabe, now 21.
"We have had two French customers who ate a croissant and started crying because it reminded them of their childhood. And there was also a Finnish customer who was brought to tears by my mille-feuilles: she said she'd never tasted anything this good in her life," he explains with obvious pride.
Early results
Julie would not divulge any figures about their first six months in business.
"But it is going quite well," she says with cautious optimism.
Mon Chou has not done any advertising yet. They have a website, hundreds of followers on Instagram and a Facebook page but nothing beats old-fashioned word-of-mouth that has already brought numerous people to the shop.
"Our customers are wonderful. People do the advertising for us. I could not do it better myself," laughs Julie.
A family business
Mon Chou is a family business, with everybody working hard, starting as early as 5 am.
The business is managed by Julie's husband who can also be found on the shop floor serving customers as well as buying and delivering ingredients, as I found out when he made a sudden appearance with a bag of pumpkins during my interview with Julie and Gabe.
But is not it stressful to work with family members all the time, I asked the mother and son in a convenient moment when neither could overhear the other.
Both answers were a resounding "no".
"We like working together: we talk a lot while making things together in the kitchent," Julie says.
"It is no problem at all to work with mum," Gabe adds.
But back to the pumpkins. What are they doing in a pastry shop?
"Pumpkins are used in one of our tart fillings in the autumn. We change our product range with the seasons," Julie explains.
"So we will be making French-style yule logs for Christmas. Wea are also planning to launch tête-à-tête: a range of tiny cakes just for two people."
And what is the best thing about living and working in Oulu for a US-French family?
Other than snowy winters, the entire family appreciates Finnish people's honesty and directness.
"We get a lot of feedback from customers. They are very sincere with us which is nice."
Lue myös