My Oulu: Valve School of Literary Arts celebrates books and reading – Oulu invests in education in literary arts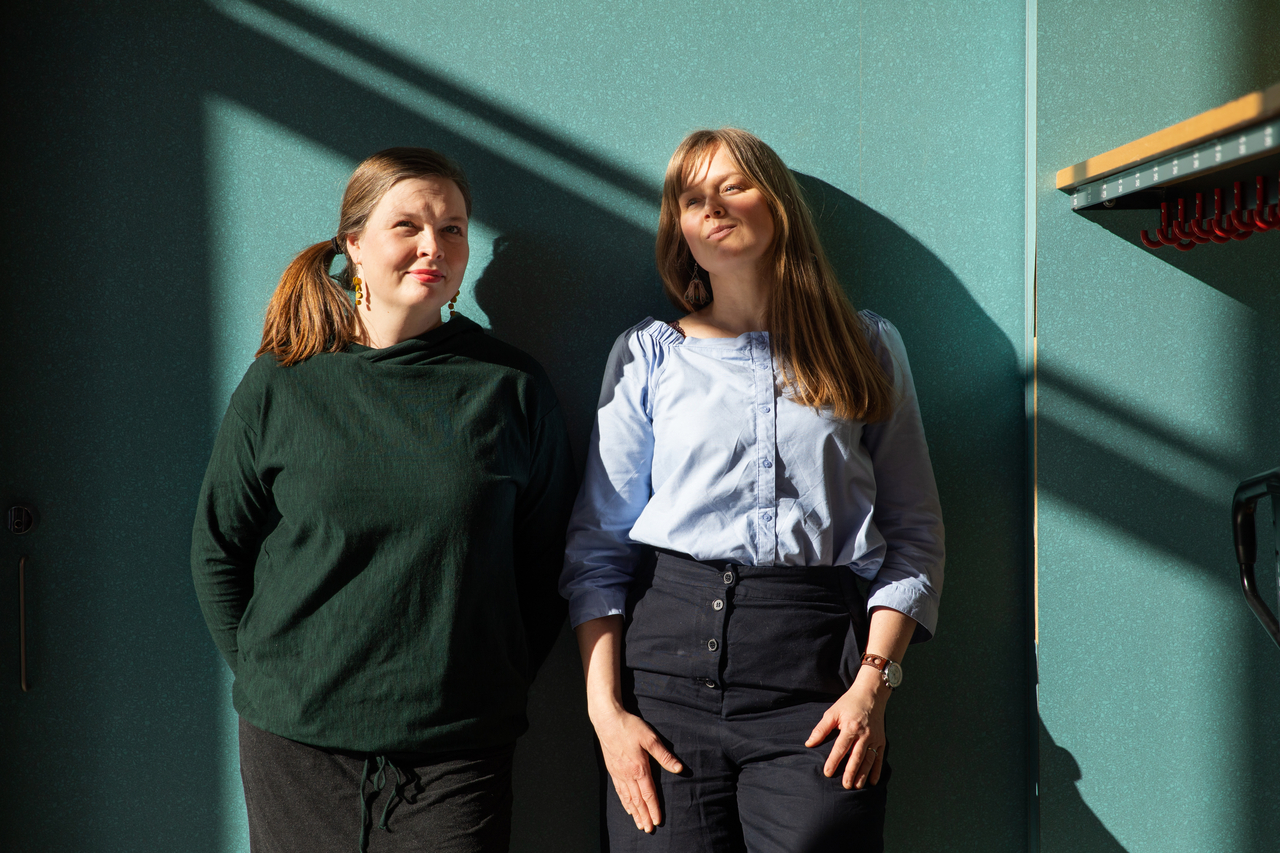 Colleagues Kati Inkala (left) and Anna Anttonen just wrapped up the Enchanted Words festival, but there is more literary arts to come: treasure chest of literary arts for preschoolers waits for final polish. Pictures: Sanna Krook
At the beginning of the millennium, literary arts education was still the odd one out in arts education. Even literally, as that was the name of the study circle that Anna Anttonen and Kati Inkala, Finnish language students at the university of Oulu, joined.  
"I think the study circle gave us two study credits. The instructors were Tuutikki Tolonen and Outi-Maria Takkinen who had launched the first literary arts group in the Lintulampi School at the end of the 1990s", Anttonen reminisces.  
Anttonen and Inkala were fascinated by this odd one out, and the study circle was followed by practical work at Valve with a few more study credits: they were organising the first seminar on children's literature. The couple of study credits were the initial impulse that gradually grew into a profession. 
"I started at the Cultural Centre Valve in spring 2003 as an hourly-paid literary arts teacher, first for groups of young people. The same autumn, we started the first literary arts baby groups. In 2006, two part-time literary arts teaching positions were opened. I got appointed, Kati started a little later," Anttonen recalls the beginning of the career path of the literary arts educators.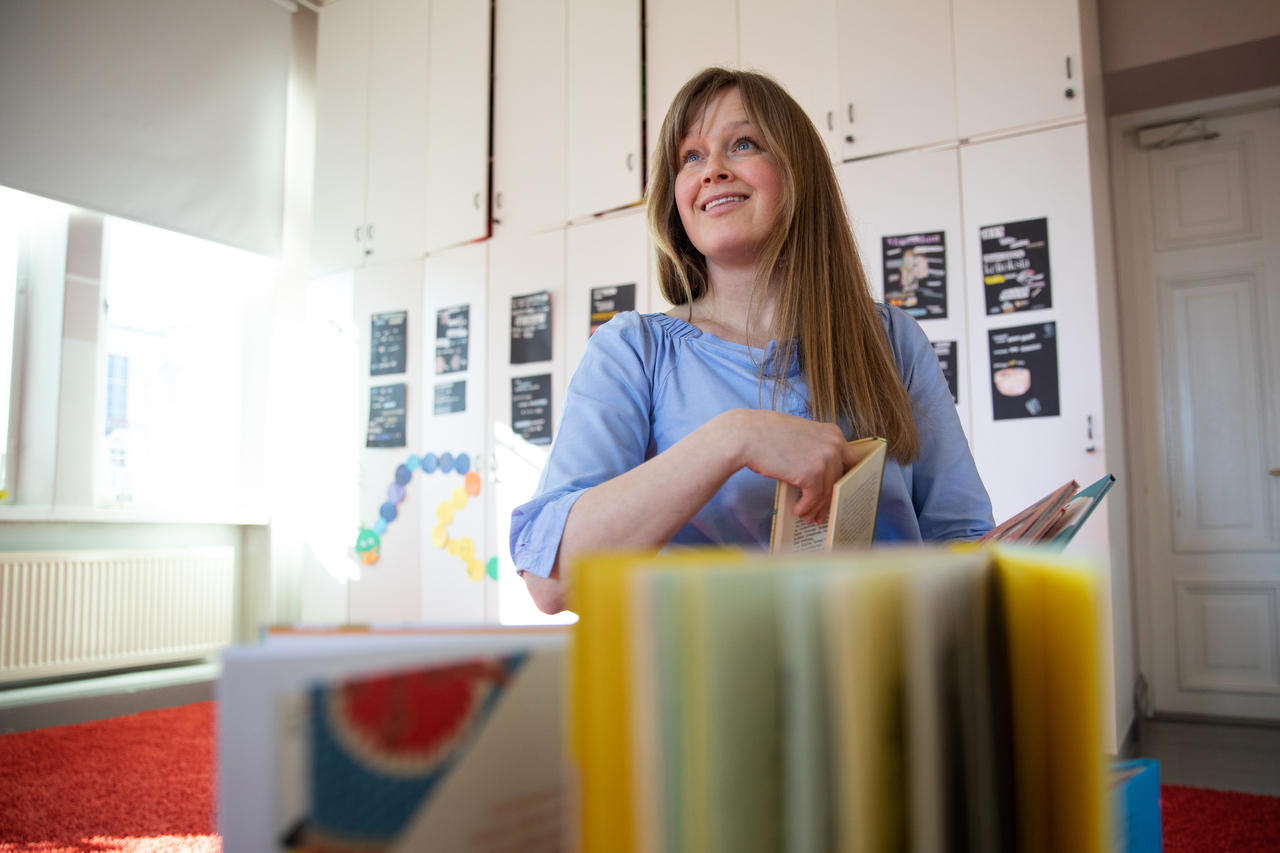 Kati Inkala and Anttonen met at the university and found not only one another as work partners, but also a collegial community. Inspired by Liisi Huhtala, Professor of Literature at the University of Oulu, the university's study circle grew into a community that was interested in literary arts education and Finnish literature for children and young people. At the Cultural Centre Valve, literary arts found a home base in Oulu, where the work could be implemented in practice. 
"In retrospect, we can say that inspired by Liisi, and made possible by Arja Huotari, the Director of Cultural Centre Valve at the time, the School of Literary Arts was born and literary arts education as a whole took shape. In Oulu, we are fortunate because the city decided to invest in literary arts. For that reason we have an important role as developers also nationally," Inkala says.  
Reading is what makes us civilised, which is why the new strategy of the City of Oulu highlights the development of technical literacy. Reading skills develop when there is interest in language and literature, and that interest is promoted by the city in many ways, for example in literary art groups or in school. 
Literature as the foundation 
Valve School of Literary Arts was honed to its current form with various children's culture development projects funded by the Ministry of Education and Culture. Inkala and Anttonen worked in the projects with an approach of constant development – partly because the field of literary arts education was so new that there weren't really any materials or operating models available. When the Ministry started to allocate their financing for five-year periods instead of three years, the activities of the Valve School of Literary Arts were made permanent — this also applied to the instructors who were accustomed to short-term work contracts.  
"I returned from maternity leave in 2008 and Kati was in turn at the maternity ward when the Board of Culture made the decision to make the work permanent.  Since 2009, we have been able to work full time, with permanent employment," Anttonen says.  
For the literary art educators, the outlook on development is different when they can look beyond the next few years. However, the core idea has been clear from the very beginning. 
"Literature has always been at the core of our operations, and our mission has been to develop literary arts education and to promote Finnish literature for children and young people. We promote our own field of art and its artworks, i.e. books," Inkala emphasises.  
"With our development tasks we almost by accident developed the pedagogy of literature-based literary arts education. It has become the guiding light for our work, whether we work with babies or adults," Anttonen adds.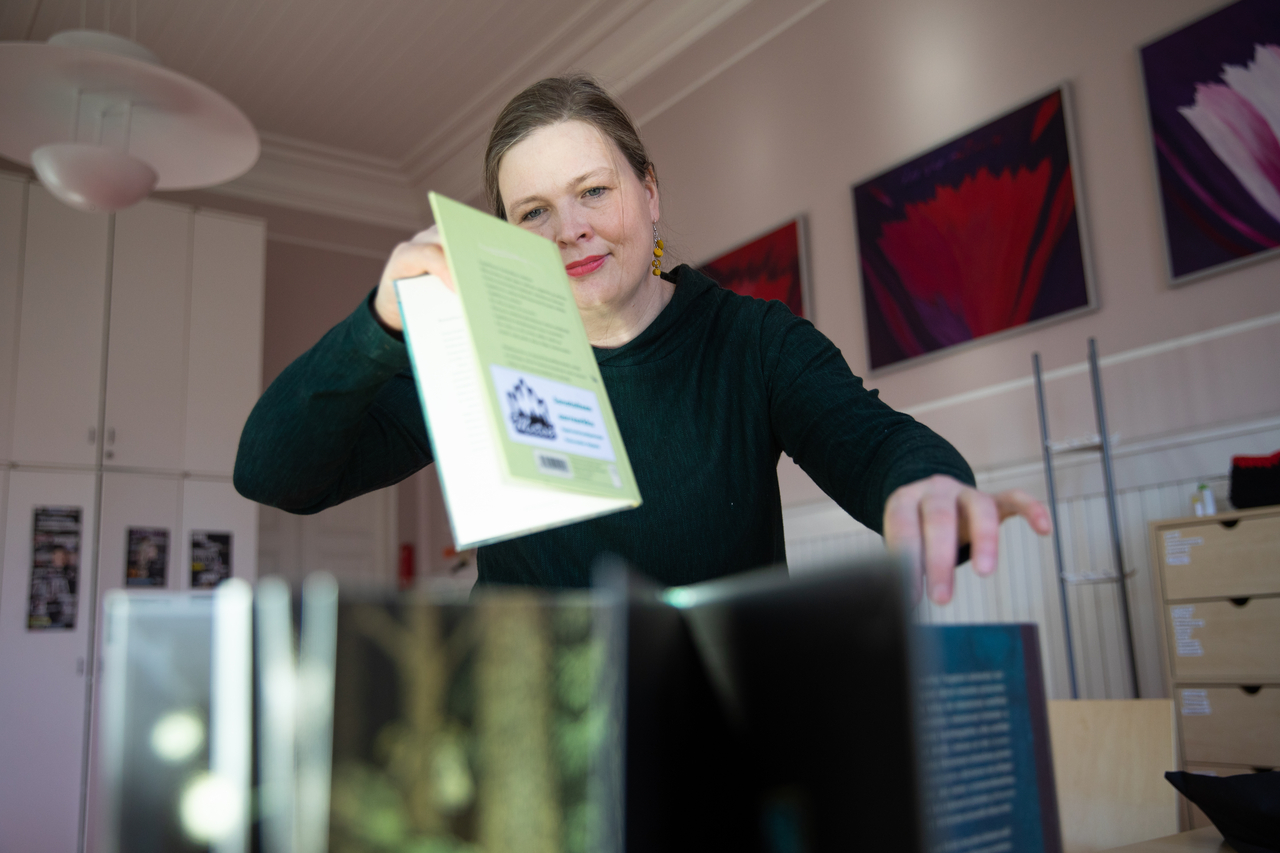 A display window for literary arts 
Over two decades, Inkala and Anttonen have worked with all their strength at the Valve School of Literary Arts to promote enthusiasm for reading. There are literary arts groups for children of all ages, from babies to adults, and they are regularly attended by over 220 fans of language and literature. In addition to their own literary arts groups, Anttonen and Inkala organise the Enchanted Words Festival every year. It has become a major children's cultural event nationally. 
"I think Enchanted words was a five-day event when we first organised it in 2007.  We wanted to create an event that would highlight the literature of children and young people, but it became a festival", Inkala laughs.  
The festival and related events as well as the experiential exhibition built in the Valve Gallery have been so popular that the event currently lasts six weeks. This year the festival was held between 23 April until 5 June.  
"This year the festival is an ode to books and reading! The illustrator of the festival this year is Sanna Pelliccioni, originally from Oulu. The experiential exhibition world in the Valve Gallery is based on her book Lue minut. There will be many workshops, meetings with artists, concerts — now that the restrictions have eased, it is wonderful to bring the joy of literary arts for the people living in Oulu," Anttonen says. 
Treasure chests of literary arts 
If literary arts groups and the festival programme are not exciting enough, literary arts are also introduced to schools in Oulu. Together with a multidisciplinary working group, Anttonen and Inkala have developed a treasure chest of itinerant literary arts, Schools can book the chest and give literary arts education tasks to 4th graders. 
"We received a lot of feedback from the schools that some classes find it difficult to get to the Enchanted Words festival in Valve, where most of the event's offering is. Together with Anna, we created an itinerant treasure chest of literary arts designed for 4th graders based on seven forest-themed children's books.  The treasure chest itself is a work of art built by two Oulu-based artists, Heidi Kesti and Petri Haapakoski. The chest contains the books it is based on as well as the literary art tasks that the teachers can do with their pupils in the classroom," Inkala explains.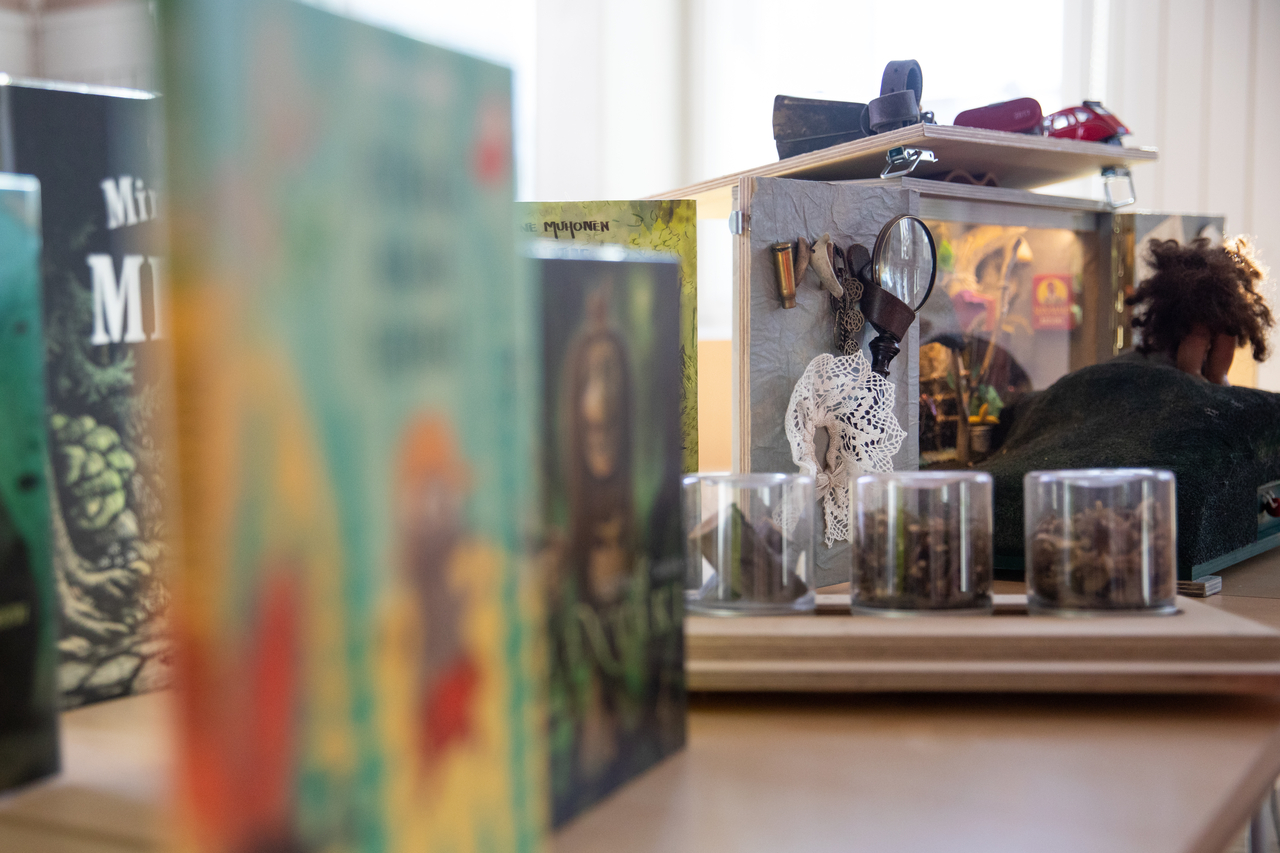 The easily movable and ingeniously implemented treasure chests circulate in primary schools in Oulu and they have been well received by both students and teachers.  
"Now we are preparing a similar, travelling literary arts experience for preschoolers. A treasure chest for 8th graders is also in the design phase.  This way we would have itinerant works of art for children from preschool to secondary level, so literature would reach quite a wide range of age groups," Anttonen says.  
Inkala and Anttonen have an inexhaustible bank of ideas because the field of literature for children and young people in Finland is lively and plenty of new books are published. One significant development area is still being planned, namely the training of literary arts educators. 
"There is no training program for literary arts professionals anywhere, and perhaps that is why we have so few full-time literary arts educators.  Dance arts, circus, visual arts, music, crafts — all of these fields of art have a degree programme at the university level, but there is no master's degree programme in literary arts! In different parts of Finland, the offering of literary arts education is diverse — municipalities are purchasing services from associations, or they hire instructors of literary arts groups by the hour, but that is not enough," Inkala says.  
Maybe the University of Oulu and the Cultural Centre Valve must once again join forces, as the nationally declining literacy needs experts in literary arts, just like Inkala and Anttonen who have the skills to inspire children to love books and reading. Literary arts education is worth investing in.  
WSOY recently awarded Valve Literary arts school with Kirsi Kunnas – grant. Award of 10 000 euros was granted to late poet Jukka Itkonen (1951-2021), but the price money will be given to Valve Literary arts school for their work to support childrens poetry. 
Read more about the literary arts groups at Valve here. 
Lue myös