My Oulu: "I would have never thought this would happen" – Ukrainians living in Oulu describe how they feel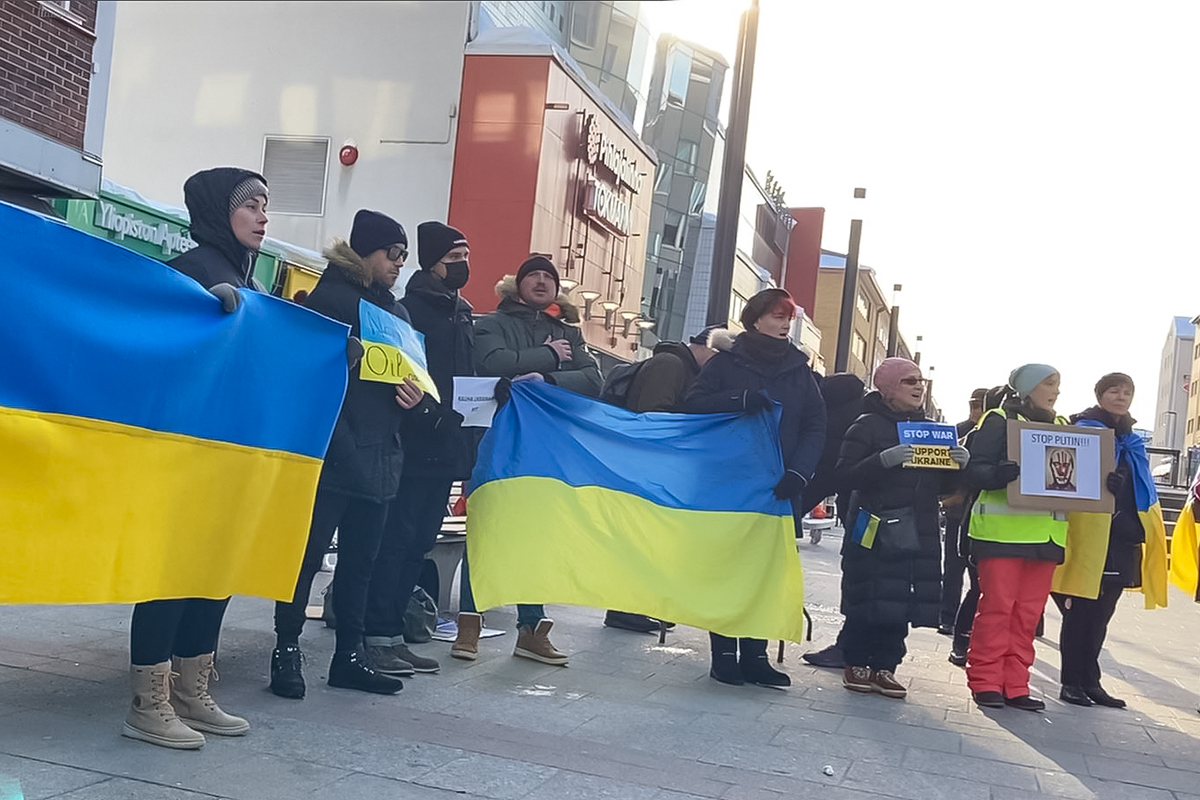 About 50 people gathered outside Valkea shopping centre early in the Sunday afternoon and a larger crowd of about 200 attended a second gathering later in Rotuaari.
"It's not only Ukrainians: a lot of Finnish people have joined us as well. There are many other nationalities here expressing solidarity with Ukraine: Russians, Georgians, German and English people, Sri Lankans," says organiser Yanina Posokhova.
The mood was sombre. Many had Ukrainian flags draped around their shoulders and carried signs condemning the war.
Shock and disbelief
There were passionate speeches in Finnish by Ukrainians living and working in Oulu. Several speakers described how members of their families were woken by sirens, sending them into bunkers in the middle of the previous night to shelter from Russian missiles raining down over Kyiv. There was a palpable sense of shock and disbelief at what was happening.
"I would have never thought this would happen," says Anatoliy Samoylenko, a Senior Research Fellow at Oulu University's Faculty of Biochemisty and Molecular Medicine who lives in Oulu with his Ukrainian wife and three young children.
"Friends and colleagues kept asking me in the last few weeks whether I thought Russia would invade Ukraine and I keep saying no, it would not happen."
"My wife's mother and brother are in Kyiv. We're in contact with them; for now they're safe. But my daughter is worried that she might never see her grandmother again. I told her everything will be fine and I honestly do believe that – although it's difficult to say how long it will take to get there".
Incredibly important
Participants kept checking phones for the latest news updates from Ukraine. From time to time, there was a break between speeches for quiet reflection when the crowd sang the Ukrainian national anthem. There were tears but also an acknowledgement of the resolve and bravery of Ukrainians to fight for their country's independence.
One participant who did not want to be named said a young man in his family joined the army in Kyiv, despite having a serious chronic disease.
"Nothing will stop them. Ukraine won't be defeated," he said.
Protestors were convinced that they were making a difference.
"This is incredibly important," said Alla, a retired maths teacher from Ukraine's second biggest town Kharkiv who now lives in Oulu.
"European countries have now decided to block access to the international payment system Swift for some Russian banks. This is mainly because millions of people around the world have gone to the streets to demand that."
"I feel like I can do something"
Organiser Yanina Posokhova agrees that raising awareness of the horrors of the war is the best course of action for expat Ukrainians.
"For the first two days of the invasion, I was sitting at home, watching the news on TV, crying," she says.  
"I was very depressed. When I'm here with Ukrainians and people who support Ukraine, I feel stronger. I feel like I can do something."
Lue myös