My Oulu: Doris Yue believes her dreams will come true in Oulu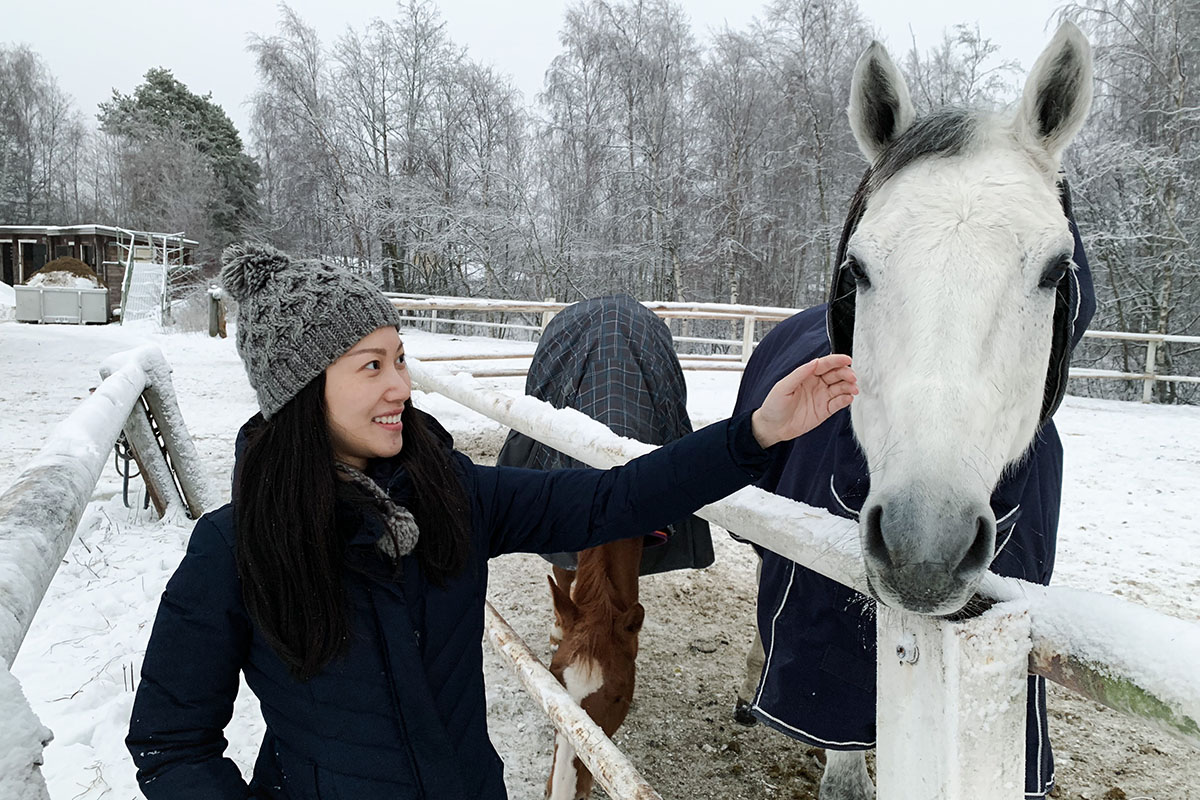 Nature is a source of energy for Doris Yue. Photo: Doris Yue's photo album
Why did you choose to come to Finland?
"I've married with a Finnish man and I moved to Oulu about two and a half years ago. To start out my life here, I took language courses first for a couple of months.
I applied for this job by sending an email directly to the boss of the office, together with the help of my husband who knew the boss personally.
I got a reply email a few days later and I was invited for an interview. The interview went well and I was working as an intern for three months. After the internship, I successfully got a permanent contract with the office.
I am happy with my situation. As the pandemic started two years ago, finding a job has been even harder than before. I was lucky to get the contract."
What do you think about Oulu?
"My first impressions about Oulu were: it is small and quiet.
Finnish people may look cold, but it's just a façade. In reality, they are very friendly and warm. There are lots of open-minded people in Oulu.
You do not have to panic when you express your opinions. Finnish people love to hear different opinions and they appreciate them.
I live near the city park, Ainolan Puisto. So for me, that park is the best place in Oulu. I love hanging around there, especially in the summer.
The best Finnish activity is picking mushrooms and berries in the forest. It's so amazing that I can pick those directly from the land and eat them right away. I can't experience that in my home city.
I like dancing and I take dance lessons regularly here, too."
How to get into the Finnish lifestyle?
"I'm very inspired by the "break" culture (tauko in Finnish) in my office. We have two official coffee breaks during the day. One is starting even before work and another one is after lunchtime. Everyone is encouraged to take a break whenever needed. It's Finnish wisdom.
The office life is quite informal in Oulu as well. My colleagues are just like my friends more than my workmates.
Another inspiration is the learning culture here. Less is more. Finnish kids do not have excessive homework and don't have to spend hours and hours every day studying. They have a lot of free time to play or focus on their own hobbies. They also have a long summer holiday without summer homework. On the contrary, kids in my home city usually spend their spare time preparing for the exams all year round including summer.
My advice for getting a job in Oulu is, you may layout a few options which you're happy with and are important for your career. My first option was to offer an internship to a potential company right after my language course. It was important to immerse myself in a real environment as quickly as possible.
The second option was to continue to study Finnish in a language school. It was also equally important to equip myself so that I'm able to present my ideas in Finnish.
Eventually, I took the first option and it went well as I hoped.
Oulu is a place to dream. Yet it's a small city but the more important is people's mindsets and mentality. Oulu people are very open-minded and creative. This gives many opportunities for foreigners as well. I'm very excited to see and explore how my dreams are to be realised here in Oulu."
Oulu Talent Hub
– Oulu Talent Hub brings together and develops regional opportunities and services for international recruitment.
– Oulu Talent Hub offers talents, for example, contacts with local companies, matchmaking events and info sessions, company visits, a tandem model for internship programmes and career counselling. For Oulu Talent Hub, international talent is defined as international specialists, employees, researchers and students.
– Oulu Talent Hub aims to promote international talent employment to companies in the Oulu region and open up employment paths for international talent.
– Project partners are BusinessOulu, Oulu Chamber of Commerce, University of Oulu, Oulu University of Applied Sciences and Oulu Vocational College.
– The project is funded by The European Social Fund, ESF.
– Learn more about Oulu Talent Hub at oulutalenthub.fi.
–
Lue myös